discover our
next level technology
Satcom Resources provides a single source destination for satellite communications (SATCOM) products, systems, and solutions. We are a value-added supplier and stocking distributor of satellite ground station equipment for antenna's, RF/amplifiers, baseband equipment and remote terminals for fixed, tracking, flyaway, mobile, COTP, COTM applications. We solve sourcing and procurement problems by providing a comprehensive suite of technical sales, smart sourcing, large inventory, financing, just in time delivery and global logistics (RESOURCES) that are custom built for our industry. Our firm exists to save you time, eliminate complexities and reduce the overall cost of satellite equipment procurement, deployment, and installation.
01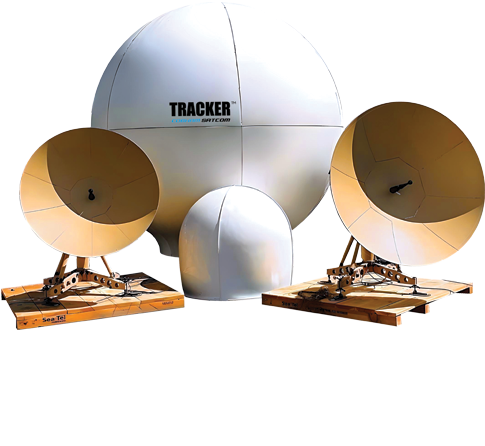 Tracking Antennas
The future of network-centric operations demands versatility, and that's precisely what the TRACKER product line delivers. Satellite operators, service providers, and end users can count on unmatched reliability and throughput, significantly reducing operating and maintenance costs while optimizing the utilization of satellite capacity.
Land Tracker systems are available in a range of sizes up to 6.0 meters, and they support all common operating frequencies. Featuring an inertially balanced antenna, three-axis tracking and a protective radome, these systems are engineered for operation in the harshest environments. Expect accurate tracking at all times, optimum signal quality, uninterrupted passes, low power consumption, and high reliability.
Tactical Tracker X-Y antenna systems embodies agility and versatility. These lightweight, robust, multi-purpose antennas are designed to be easy to operate, fast to deploy, and quick to connect. These high-speed, high-bandwidth terminals empower rapid switching between GEO, LEO, and MEO satellites, ensuring support for current and future space segments and mission scenarios.
Meeting future requirements today, contact us today for more information the complete TRACKER line of antenna systems.
02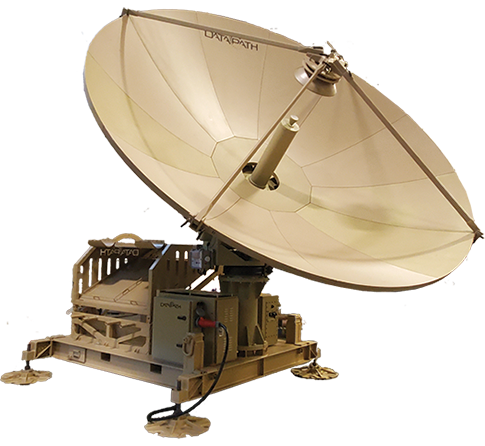 Hubs
Deployable gateway and regional hub nodes redefine high-speed network connectivity, ensuring you have access to the resources and connections you need. Featuring larger aperture antennas designed for greater throughput, these systems are the key to establishing headquarters-level and network-hub connectivity anywhere your mission dictates.
These systems offer a seamless bridge between military and commercial networks, ensuring that you can operate with ease and flexibility in any environment. They can be transported over air, land, or sea, using a variety of aircraft and vehicles. Whether your mission requires a rapid airlift or a rugged overland journey, these systems are ready for the challenge.
Discover the difference that our deployable hub nodes can make for your operations. Contact us today to learn more about how these systems can enhance your connectivity and empower your missions.
03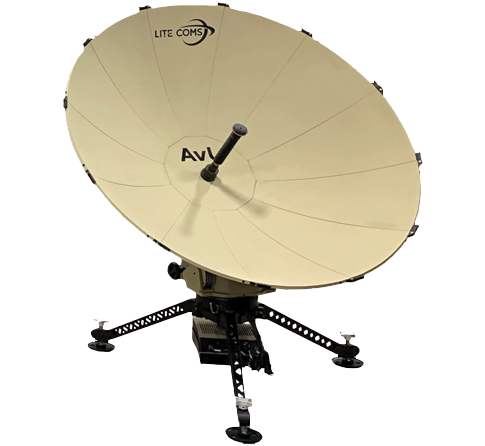 Tactical Terminals
Satcom Tactical Terminals are engineered for ease of use, built for resilience, and designed for versatility. These ruggedized, case-based, transportable systems are the ideal choice for quick deployment and rapid setup. They come in a range of antenna sizes, supporting multiple frequency bands, making them adaptable for a wide array of missions.
In demanding and dynamic environments, resilience is key. Tactical Terminals are ruggedized to withstand the toughest conditions. Their construction features modular components that enable operators to swiftly change the configuration of the terminal in the field. This adaptability ensures they can support different configurations and use cases seamlessly.
Discover the possibilities that our Tactical Terminals can unlock for your missions. Contact us today to learn more about our ruggedized, versatile, and rapidly deployable systems and how they can enhance your operations.
04
Baseband Kits
Empowering edge communications, baseband kits provide seamless connectivity, communication, and the exchange of critical information at the edge of networks. Featuring an innovative and compact form factor, these kits set a new standard for size, weight, and power (SWaP), making them an ideal choice for initial entry operations, and enhancing unit agility.
These kits are designed for rapid reconfiguration, offering secure tactical access to coalition or commercial networks, thus supporting both civil and military operations. Baseband Kits are modular and scalable, allowing storage, compute, and networking modules to be combined for increased capacity. This adaptability ensures you can quickly respond to dynamic mission requirements. The integrated stacking system removes the need for a chassis, increasing flexibility in system configuration. This modular approach delivers unparalleled flexibility, as users can easily add networking capabilities based on mission requirements without the need to replace existing networking or compute hardware.
Unlock the potential of edge connectivity with our Baseband Kits. Contact us today to learn more about how these systems can enhance your operations and keep you connected in the most challenging environments.
05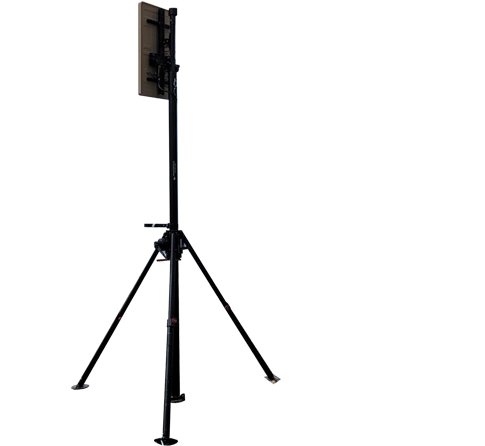 WIFI/LOS
Ruggedized and quick-deployable WiFi / Line of Sight (LOS) solutions are engineered for a singular purpose: to extend network access and elevate your operational flexibility. These case-based systems are your answer to short and long-range network extension and distribution, all designed for ease of transport.
Speed and ease of use is essential, especially in mission-critical scenarios. Each system includes a sectional antenna mast with a tri-pod base. The sectional assembly and no-tools-required design allow the mast to be deployed, stowed, and packed up in a matter of minutes, redefining the efficiency of your operations.
Discover the true potential of your network with our WiFi / LOS solutions. Contact us today to learn more about how these systems can enhance your operational flexibility and elevate your connectivity in all circumstances.
06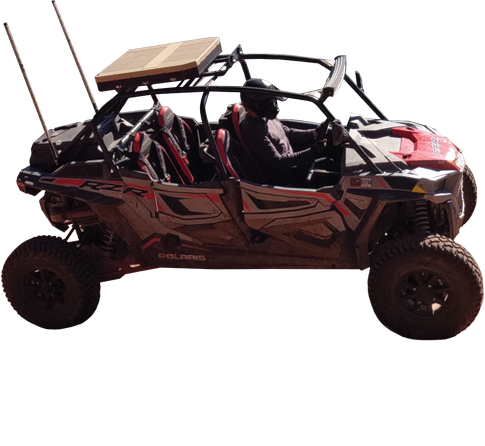 Comms on the Move
Comms on the Move (COTM) antennas and integrated terminals are your key to reliable satellite data connectivity while on the move. They empower secure beyond-line-of-sight communications for vehicles in motion. Designed for rugged tactical environments, these antennas can be mounted on various platforms, including vehicles, trains, boats, aircraft, and UAVs.
Rugged and ready, our COTM solutions are built to thrive in tactical environments and enable secure, beyond-line of sight communications. These antennas can be mounted on a wide range of platforms, from vehicles to aircraft to UAVs. They are designed to withstand the harshest conditions and ensure that your communications are always reliable.
Contact us today to learn more about how these systems can enhance your connectivity, even when you're on the move.
07
Micro VSAT
Micro VSAT systems are small, lightweight, and designed for ultimate portability. These systems offer the convenience of aircraft carry-on and overhead storage, whether packed in a backpack or a single case. Operable by a single person, these quick-connect solutions are fully integrated terminals that can be bundled with bandwidth and connectivity services, providing total convenience in a single package.
Our Micro VSAT systems are quick-connect solutions, allowing you to establish connectivity swiftly and without complications. They are small, lightweight, and easy to transport and ensure that you have the connectivity you need wherever you go.
Discover the ultimate in portability with our Micro VSAT solutions. Contact us today to learn more about how these systems can enhance your connectivity and provide unparalleled convenience in the field.
08
VSAT/Flyway
Traditionally used for commercial applications on shared or point to point satellite networks, very small aperture terminal (VSAT) and VSAT flyaways are two-way satellite ground stations that support both narrow and broadband applications. Antenna sizes typically range from 1.2 to 3.8M, support a single frequency band and can be integrated with a wide range of low-cost RF and satellite modems.
Flyaway VSAT systems are high-value, case-based solutions that are perfect for temporary deployments, disaster relief efforts, live event broadcasts, and ensuring reliable Internet and IP connectivity. Contact us today to learn more about how these versatile systems can enhance your operations.
Our VSAT and VSAT flyaway systems are the embodiment of versatility at a lower price point. Contact us today to learn more about how these versatile systems can enhance your operations.